Follow the Summer Indie Spotlight event here at Periapsis Press and remember to buy, read, and review each novel to give amazing indie authors the boost they deserve. There's even a free book giveaway!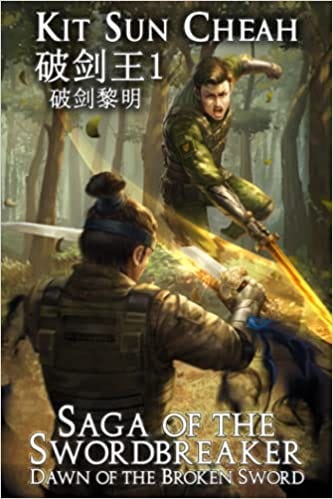 The blurb:
Li Ming is a small-town boy with big dreams.
In the era of the Five States and Ten Corporations, the immortals of the jianghu stand head and shoulders above the masses. Li Ming aspires to join their ranks.
But the world of the rivers and lakes is fraught with peril. Deception and danger lurk in the shadows. Bloodthirsty beasts roam the wilds. Martial cultivators constantly battle for wealth, glory and status.
Armed with his ancestral swordbreaker, Li Ming enters the jianghu as a biaohang, eager to deliver justice with steel and magic—and to chase the dream of immortality.
But first, he must prove himself worthy.
Author's Note: This series is not a power fantasy. There are no LitRPG / GameLit elements, no unconventional relationships, and no sexual content. It is, quite simply, a cultivation story—in the actual sense of the term.
---
I followed the creation log of Dawn of the Broken Sword eagerly from the moment Mr. Cheah announced the premise on Twitter many moons ago. As a sometime reader of (only the best) litRPG, the idea of Cultivation intrigued me. Having also read the author's Dungeon Samurai and heard his opinions on the genres involved, I simply had to see what his take on this would be.
Superficially, these are indeed what the book feels like - an MMO-like world without the intense gamification of litRPG and plus the deep tradition of martial arts cultivation. Our hero Li Ming inhabits a world of clear and rigid structure, with a known and well-trodden path before him, and a concrete place in the world that is nicely juxtaposed against the mysteries that arise as the meta plot sets in.
Plot:
Being that this is my first cultivation novel, I can't say whether this style of plot is standard, but it feels like one part action, one part slice of life (it's a really cool life too). We follow Li Ming as he enters a world he is aware of but is not yet trained into. We train with him, meet challenges at his side, and feel his awe at the mysteries he discovers along the way.
This is not an adventure, and so the plot structure may feel different to western readers, but rest assured that there is no shortage of action, violence, and intrigue. The two juiciest series threads - one of them being the mystery of the titular swordbreaker - find their footing over the course of the book and set us up for more to come, no doubt with even greater intensity.
Character:
Li Ming reminds me a lot of the author's Heroes Unleashed superhero, Amp, which isn't a bad thing. He's fiercely dedicated to his training and utterly concerned with honor and heroism. It's unclear to me at the moment how his hunger for Immortality will be, or is, affected by those facets, but I assume those answers will come in time.
Li Ming's drive to be the best version of himself is palpable. But one thing that didn't entirely connect for me was the hint that he might have anger issues. I like that certain things, particularly unfairness or injustice, make him angry, but while his anger does threaten to cause issues, I didn't feel it viscerally whenever the emotion asserted itself. This is a really nitpicky craft comment, to be sure. The character is overall engaging and more than worthy to follow to the end of his road.
The other prominent characters are distinct and it's cool to see everyone's varying martial styles in play. It will be interesting to see how Li's friend and competitive rival's relation to the series plot will play out.
Craft:
Cheah's planning and diligence come through as always. The world is lovely and intriguing and clearly well-thought-out. I love the mashup of cyberpunk and a martial-arts dominated society.
I felt that the author's prose in this piece had more of the emotion, passion and beauty I typically wish to see more of in the other works I've read by him. It's clear that this subject matter and world are something he cares very much about, and that crafting a proper cultivation novel is paramount. All of this love and passion comes through, especially in the descriptions of forms and cultivation 'magic'.
Overall this is a wonderful book and one I'm glad I started my cultivation exposure with! I can only hope that, though Cheah has set the bar high for other cultivation works, he hasn't set it too high for me to enjoy some of them as much as I did this book!