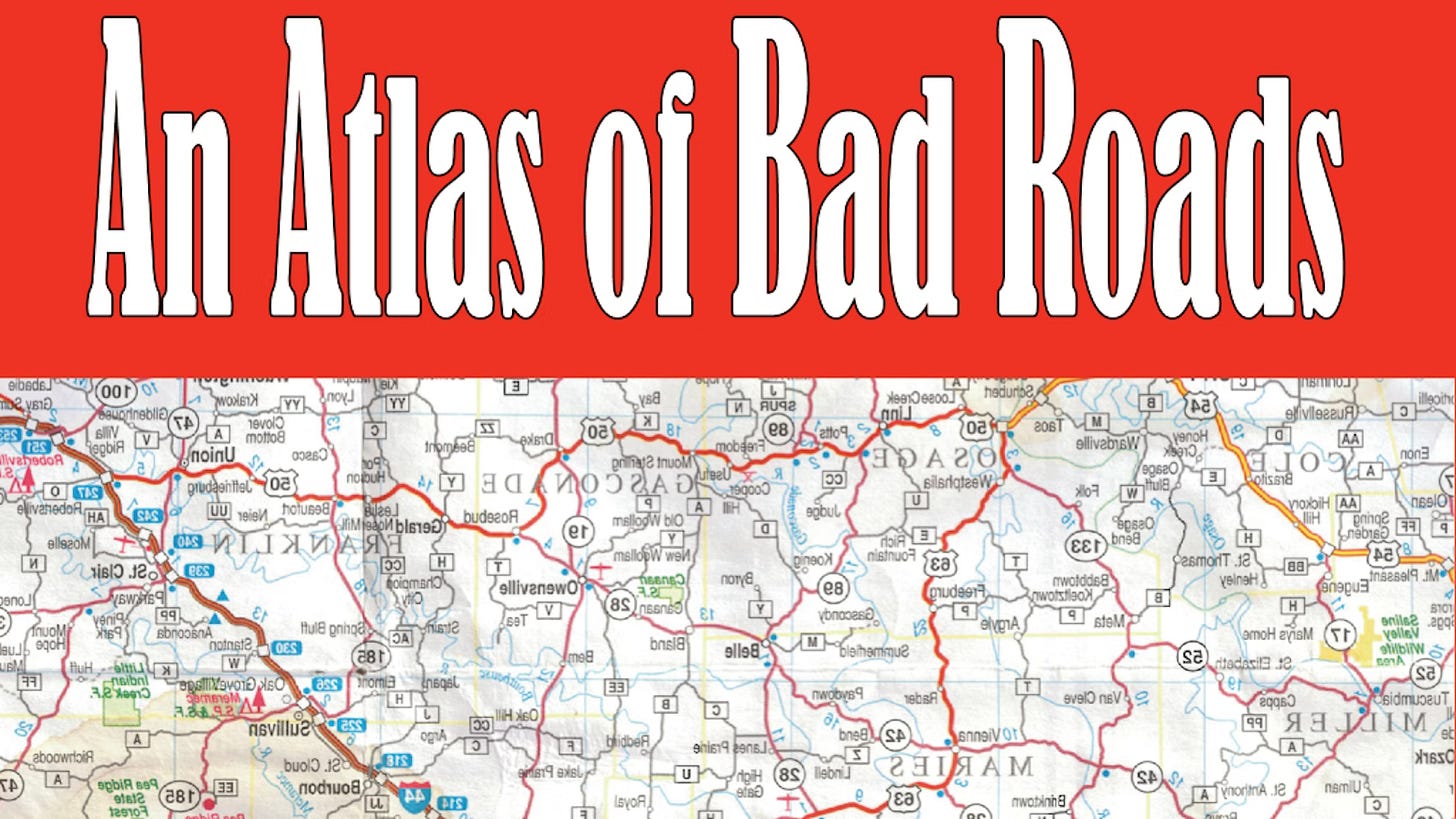 The blurb:
There are many strange places off the beaten paths in this great land of ours. From the abandoned shopping malls where squatters revel in violent nihilism to the new subdivisions built atop ruins where tragedies lay buried, Misha Burnett is your guide to the weird and out of the way places that are haunted by the past and the future.

This all new collection from Misha Burnett includes 16 strange tales of the macabre as well as 16 original poems, exploring the mysterious nature of the seemingly mundane world, where the run-down warehouses, shady night clubs, and even 24-hour gas stations may be home to magical fae creatures or skulking maniacs.

You've been offered a map to these beautiful vistas and disturbing local attractions. Just try not to get lost.
---
Misha Burnett is well-known in our pulp revolution circles for being a master of weird fiction. He certainly wouldn't claim the 'pulp' moniker but because of interactions and frenships gets lumped in with the riffraff more often than not.
His long relationship with publisher Cirsova has brought us many splendid stories and a few anthologies. The latest is this collection of horror tales, each of which started with no real intention of being horror, as the author states in his introduction to the work.
Since this is an anthology, I'll forego my usual format and play it loose.
Every story is great, treating me to an effortless read devoid of eye rolls and temptations to skip ahead. The writing is solid and poignant, a given for any work of Burnett's. And the collection's concept contributes to a real sense of tense discovery, as we never know what's going to happen next.
This is probably the main strength of the work, and with a bit of a trained eye you can see how the concept pervaded each work and begged Burnett to build the collection. The stories seem to all be discovery-written, meaning there was no plotting in advance, which allowed the author's imagination and subconscious to run wild and pull out of the aether horrors both old and new.
It results in a fairly loose structure and leaves a lot of questions open, and this is of course in keeping with the theme and concept.
This is a great book to sit in the dark with, sip coffee, tea, or something harder, and lose yourself in along with our beset and often cursed characters.
Spotlights:
Mystery Train - an excellent and claustrophobic supernatural mystery featuring a highly virtuous main character. You'll be guessing at motives and the nature of the threat until the big reveal! There's also a strong faith element and a really fun 'begone thot!' moment.
Black Dog - a somber and sweet, haunting tale featuring the traditional 'black dog' a lot of folks from my generation will recall a version of from our legendary Scary Stories to Tell in the Dark, a sacred tome indeed.
Dead Man's Chest - features a really weird premise that almost veers into the whimsical. It's all the more horrifying when more graphic elements pop up. While I don't think I fully grasped some of the implications toward the end, there was still something evocative about the way the concept manifested. You are what you eat.
The Lord of Slow Candles - this was my favorite of the bunch, though I had an odd desire to have chosen one of the previously unpublished stories to take that honor. The story is a very imaginative and fae-infused dive into the life of a girl everyone must think is insane. But to her, the strangeness of the world makes perfect sense, and it's implied that in fact she's more in tune with the real reality of it all than anyone else. Burnett makes use of one of my favorite concepts (devices?) - elevating the most mundane things to a higher metaphysical level - the obvious prime example being mention of a mysterious being called 'The Lord of Slow Candles'.
I love the juiciness of this. What, or who, is he? What does he do? Whom does he choose as his subjects and why? We don't get clear answers on this and thus it lodges in the imagination, no doubt to resurface later through the subconscious in what one thinks is a novel thought.
Burnett also populates the invisible corners of the world with creative forms of cryptids that all have their own odd fixations on stuff in the 'real' world.
---
All in all it's a brilliant collection, and well worth your time, especially in spooky season. I haven't even mentioned the poetry that salts the book, as while I appreciate it, I'm not well equipped to offer critique on it. Purty words read good.
So grab your copy before some ghostly black dog ushers it to the realm of the dead!